ABM-50 AUTO FEED DOUBLE SIDED BEVELLER
ABM-50 AUTO FEED DOUBLE SIDED BEVELLER
Featuring unique LCD display remote control
ABM50 produces accurate high-quality, double-sided bevels without thermal distortion or creation of a heat-affected zone on plate thickness range 8-80 mm (15/16" – 3 1/8"), using a purpose-designed bevelling head with eight 4-sided indexable cutting inserts. Continuously adjustable bevel angle between 15 and 60 degrees (for both top and bottom beveling) requires no tooling to change.
Want to make sure the 'ABM-50 AUTO FEED DOUBLE SIDED BEVELLER' is right for you? Speak to our specialist solutions team today.
FIND OUT MORE
PURCHASE OR HIRE
WATCH VIDEO
Top bevelling

Bottom bevelling

Min plate thickness 8 mm 5/16" Max plate thickness 80 mm 3 1/8"

Bevel angles top 15° - 60°, Bottom 15° - 60°

Bevel width up to 50 mm (2") / 45° - Up to 66 mm (2 5/8") / 15°
UNIQUE REMOTE CONTROL WITH LCD DISPLAY
---
The ABM-50 features an unique remote control panel with LCD display that shows exact bevel geometry as well as enables precise adjustment of spindle speed and feed speed to optimize them depending on material grade incl. stainless steel, aluminum etc.
ELIMINATES HARD PHYSICAL WORK
---
ABM-50 can perform beveling along steel plate's edge eliminating hard physical work of the operator. The maximum bevel at 45 degrees is up to 50 mm (2").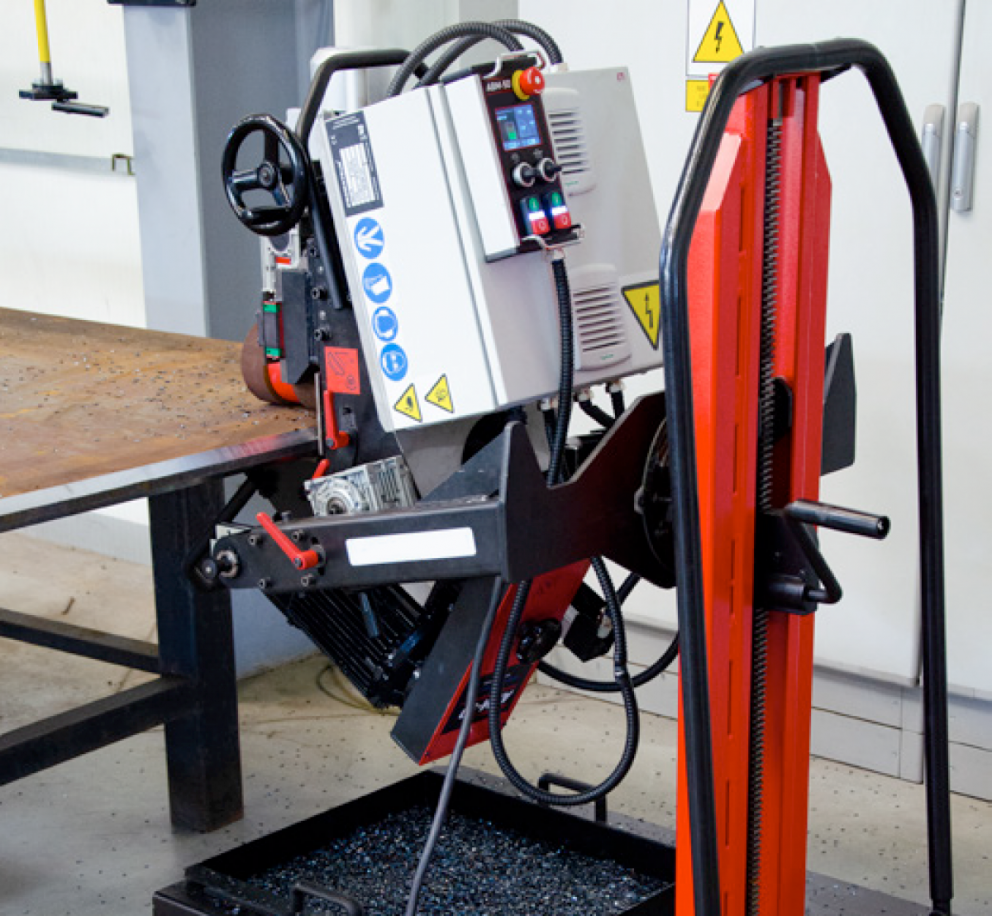 DOUBLE-SIDED BEVELLING & PRECISE SPINDLE SPEED ADJUSTMENT
---
ABM-50 can create a double-sided bevel eliminating the need to turn a plate over.
Precise adjustment of spindle speed and feed rate to optimize cutting conditions depending on sort of material grade incl. stainless steel, alloys and aluminum.
Watch our video of the ABM-50 AUTO FEED DOUBLE SIDED BEVELLER
---