BM-18A PNEUMATIC PLATE BEVELLER
BM-18A PNEUMATIC PLATE BEVELLER
THE NEW GENERATION OF POWERFUL, PORTABLE PNEUMATIC PIPE BEVELLING
The new SteelBeast® BM-18A pneumatic plate beveller features a powerful pneumatic motor that allows machining up to an 18mm bevel. With the new hexagonal fixing of the milling head increase the durability and makes replacement of the head convenient, easy and much more user-friendly.
Want to make sure the 'BM-18A PNEUMATIC PLATE BEVELLER' is right for you? Speak to our specialist solutions team today.
FIND OUT MORE
PURCHASE OR HIRE
WATCH VIDEO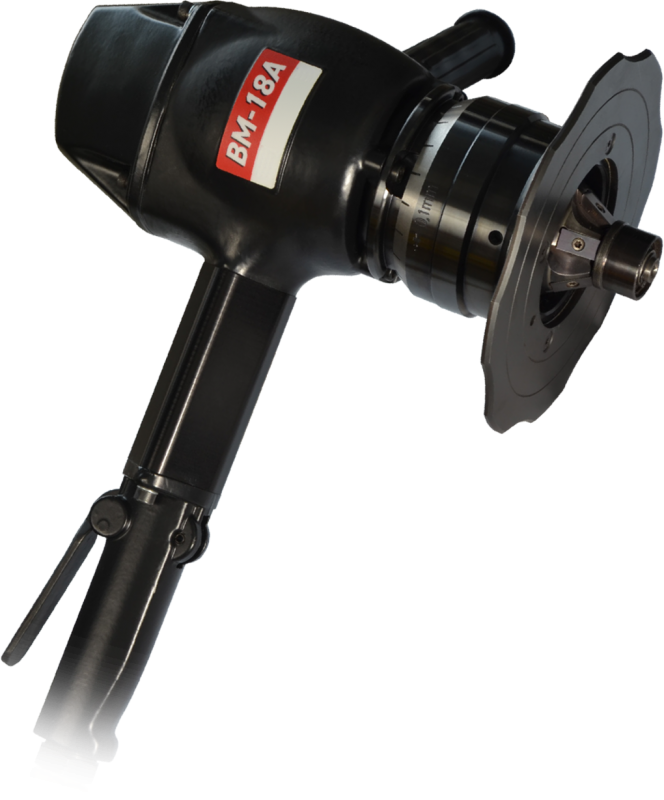 Max bevel width 18 mm
Top bevelling

Bevel angles 22.5°, 30°, 37.5°, 45°, 50°, 55°, 60°

Rounding edges R2, R3, R4 or R5

Countersinking Min. ID 40 mm

Min. plate thickness 2 mm
Why the BM-18A?
---
- Powerful pneumatic motor.
- Maximum 18 mm bevel width (more than one pass could be required).
- New more durable milling heads with hexagonal fixing.
- Easy replacement of milling heads.
- Bevelling milling head is equipped with 5 pcs of 2-sided indexable cutting inserts.
- Milling head for rounding is equipped with 4 pcs of 4-sided indexable inserts up to R5.
- Creates the perfect radius on both straight and curved edges.
- Bevel on holes from 40 mm in diameter.
New design of milling heads with hexagonal fixing
---
The new BM-18A from SteelBeast offers increased durability and a more convenient way to assemble and disassemble the milling head.
The guiding roller is integrated neatly with each milling with the clearance between milling and guiding roller is precisely calibrated. Therefore, requires no adjustment by the operator.
FEATURES OF THE NEW BM-18A
---
Watch our video of the BM-18A PNEUMATIC PLATE BEVELLER
---